Lieutenant
Oshdy Simon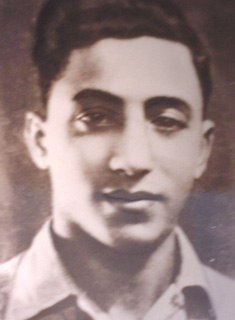 Son of
Tzvia and Zecharia
Born in Yemen
On 5/12/1931
Immigrated on 1934
Drafted on 1947
Served
in Palmach – Yiftach Brigade
In The Third Battalion, Yiftach Brigade, Tet Company
In Hachsharat Hulata (1948) – Hamachanot Haolim
Role:
Platoon commander
Killed In Battle
In The War Of Independence
On 9/9/1948
In:
Alongside Nir 'Am
Buried in Giv'atayyim – Nahlat Yitzhak
Was 17 years old
Photo Album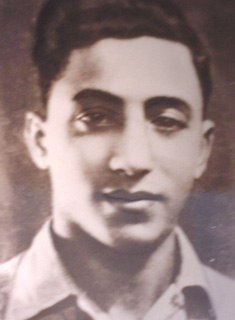 מפרי עטו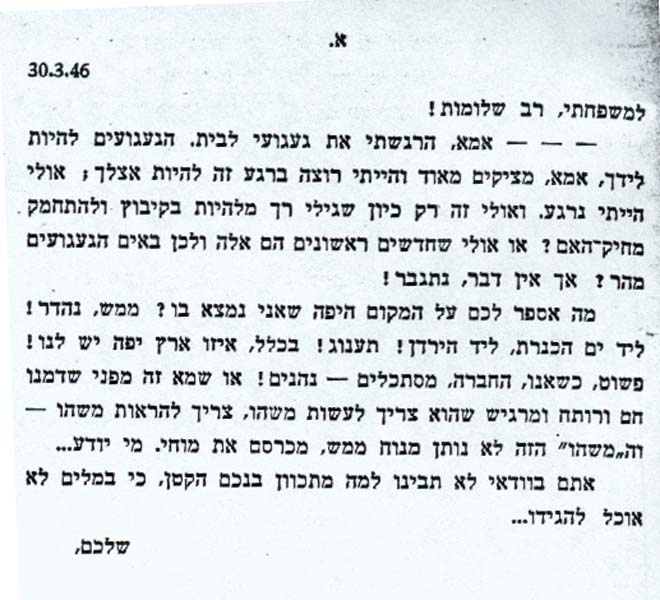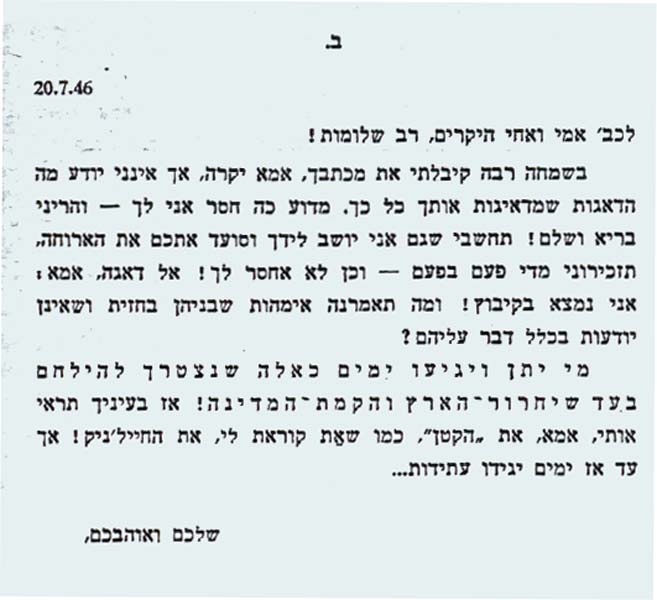 מפרי עטו
מתוך יומנו
כנרת 1.12.46
החלטתי להתחיל ביומן חיים. זה זמן מה, שאני הוגה על מעשה כזה. וביחוד אני נוטה להתרשם מהגדולים שמספרים מיומן חייהם. כשקראנו בליל שבת מיומנה של חנה סנש, החלטתי ,שמ- 1 לחודש דצמבר אחל ביומני.
...יש ופעמים אני כל כך משתוקק להיות בבית. כל כך... אני נזכר במשחקים, כדור רגל, בבנות בחברים, בקולנוע בסרטים בני 31 מערכות, בתנועה וכו' בפעם האחרונה כשבקרתי בבית רציתי להישאר עוד מספר ימים אך לא יכולתי....
יש ולפעמים אני חושב, שהקבוץ לא בשבילי. אני לא אוכל שאת את החיים האלה. חיי עבודה ברציפות שאין בהם ענין... אך לפי שעה עודני נמצא בחברה, וימים יגידו עתידות...
בבית המצב בכל רע, יש לי רושם שאינם רוצים לכתוב את המציאות המרה. אחי עובד קשה מאוד. דאגה רודפת דאגה אוני מה אהבתיו... הוא ואמי מבקשים את עזרתי..."


1.1.47
קבלתי מכתב מאורי ובו הוא כותב לי בעיקר על המצב בנוער העובד. הנוער שם נוטה ל"קיצוניות" מבחינת ה"ארגון". נהנים הם "לאחוז טומיגן מאשר להשאר במועדון של הנוער העובד" כך הוא כותב. רגלם האחת על הסף והשניה בחוץ.
לפי שעה בחברה - לא רע. היחסים משתנים תמיד. כל רגע אני יכול לאמר על חבר זה או אחר, דעה מנוגדת לראשונה. דעותי משתנות לפי מצב רוחי. דוד מ. לועג לי תמיד על כי אני מרבה במילה: "יַה-בַה-יֵה" הדבר פוגע בי אך אני מניח לו יהיה כך... אני רוצה להגשים את האידיאל שלי והוא להיות קבוצניק אך עזרת ההורים עומדת מנגד."


6.4.47
היום שישי נסעתי מכינרת רחובותה. בדרך נסיעתי הרהרתי על עתידי הרהורים נוגים מאוד וסכמתי שהענינים יגעים. ברחובות פגשתי את אמי ואחותי אחר כך גם את אחי. הפגישה היתה רגילה.


19.7.47 זה שלושה ימים שאני נמצא בסמינר של השכבה המתבגרת ביגור. עזבתי לזמן מה את עבודתי ברחובות ובאתי יגורה. הסמינר ימשך שמונה ימים. הדגש בסמינר מונח על ההרצאות. אני משתתף בחוג לספורט
שנה תמה ועברה, שנת תש"ז, ופוסע אני לקראת שנה חדשה שנת מאורעות בחיי ובחיי העם העברי בכללו.
הנני צועד אליה, הנני צועד, הנני...